Photo Lessons in Japan - Prologue




OK, let's kick-off our photo lessons. By using your DSLR camera, you could take some nice pictures by coincidence. But our goal is to consistently take wonderful pictures of Japan that includes portraits of Kawaii models - similar to what you see in print and magazine ads. Sounds exciting?


DSLR Camera - Basic Components
Today you can take some nice images using an i-Phone or a point-and-shoot camera. But, most professional photographers are using DSLR cameras that are large, heavy and a bold lens attached. Why? What are different?
Basic DSLR camera components are follows. The image sensor used to be based film, and there was no LCD monitor. All the other components have remained almost the same over 30 years.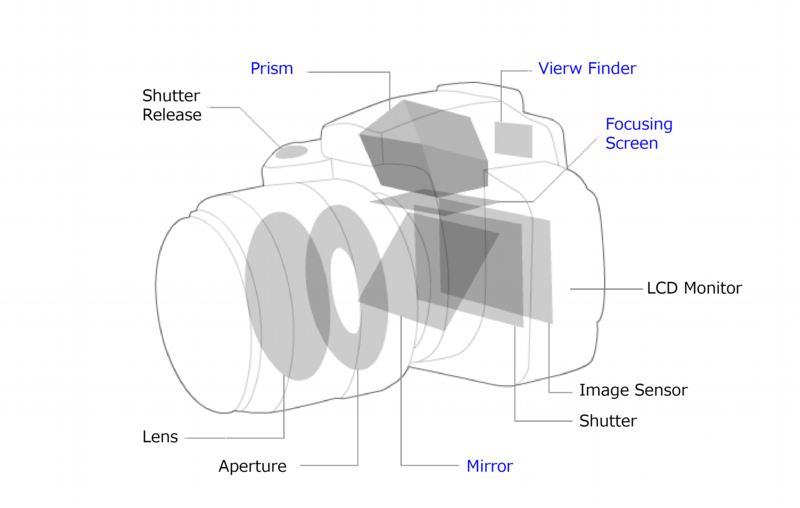 i-Phones also have a lens, a shutter, an image sensor and a LCD monitor - the same monitor is also used as a view finder.
Point-and-shoot cameras have an aperture in addition to all the functions found on i-Phones. The "mirror-less" DSLR cameras are almost same (some mirror-less DSLR cameras have an electrical view finder.)
---
Press a Shutter Release - What Happen?


1) You can take a look at the object through the view finder.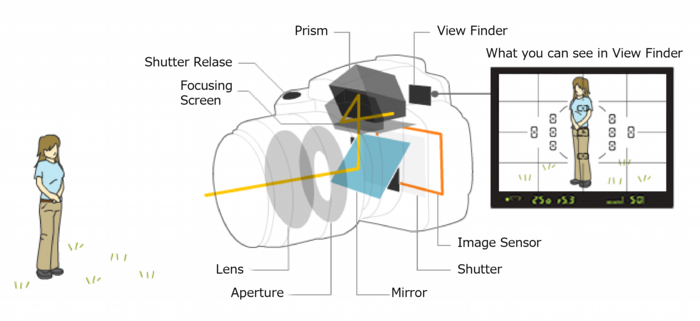 2) When you press a shutter release, a mirror flips up, and the shutter opens. Light comes through to the image sensor, and the signal is recorded. The view finer is blacked out during this action.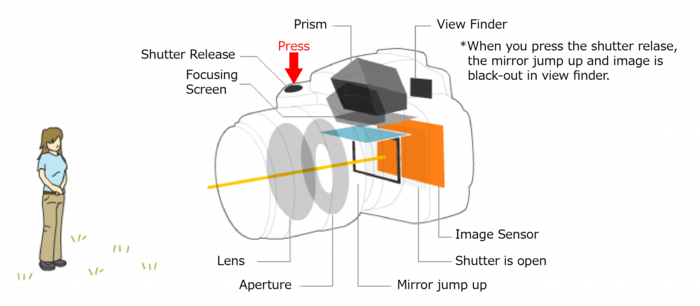 3) After taking the photo, the mirror flips down, and the shutter closes. The view finder also works as normal. The recored image can be reviewed at LCD monitor.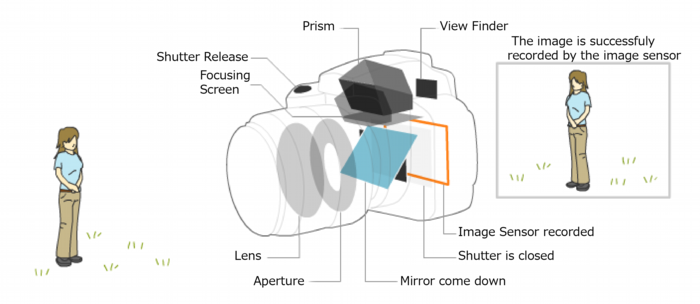 4) In case of
continuous
shooting, camera repeats these actions (steps 1-3) 4 -10 times per second.
---
Why Professionals use DSLR Camera?
Only DSLR cameras have additional components like a mirror, a prism, a view finder. Why?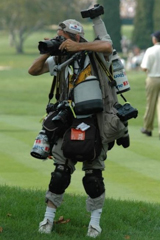 Because there are some big advantages. One thing I would say, the feeling you get while shooting. Hold the camera grip with your right hand, and support the lens with your left hand. Then put your eye to the view finder (I suggest keeping both eyes open). Don
'
t you feel like a hunter? Pressing the shutter release are you can feel the moment of "the shoot" via view finder and the sounds of camera. Yes, this feeling is similar to shooting a gun. You can also take continuous shoots i.e. 4 -10 shoots in a second - like a machine gun! These hunter-like feelings are only tangible via DSLR cameras.
The other advantage is, folding camera by three points - by your right hand, left hand and your face - you feel a camera becomes part of your body. This style leads to less camera shakes at the moment of shutter release. Without camera shake, you will take crystal clear pictures. Sounds good?
By using DSLR camera - you can change lens that is suitable the shoot. There are a wide variety of lens in camera shops and on-line store. Some lens look like a cannon. You have probably seen sports photographers carry cannon like lens in the soccer or football games. By mounting these monster lens on your DSLR camera you can capture fine pictures of a goal/ a super catch of your kids!
There are roughly three factors for your lens selection. First is type, APS-C or Full Size. Second is focal length (wide or telescope), zoom or fixed. Third is maximum aperture.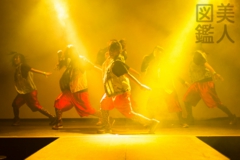 Finally, the most important point - successful shooting under tough conditions. Imagine you are trying to take pictures of your kids playing basketball games at a gym, or dancing on stage in a school. Taking these shots using an i-Phone, your kids would be too small, dark or blurred.
You can take absolutely better pictures by using DSLR camera properly.
Always keep in mind, camera is just a tool. Your knowledge, skill and experience are the key for creating fantastic results.
Take this DSLR photo lessons - and you will enjoy the shortest route to improve your photography!
---
Photography Lessons Fee in Tokyo or Yokohama

Per person's charge
JPY 10,000
1.5 Hours for private lessons

3 hours for group lessons (minimum 2 persons). Further discounts applied on 3 or more students group lessons.

Available on Tokyo or Yokohama. Lessons in the other city (i.e. Kyoto) requires additional fee.
Kawaii Model Fee for the Photo Lessons
per person's charge
JPY10,000
1.5 Hours for private lessons

3 hours for group lessons (minimum 2 persons). Further discounts applied on 3 or more students group lessons.

A kawaii model will be arranged by Santos, subject to the availability of the model.
Above photo lessons are arranged by Santos Ota, Bijinzukan, Co., Ltd.